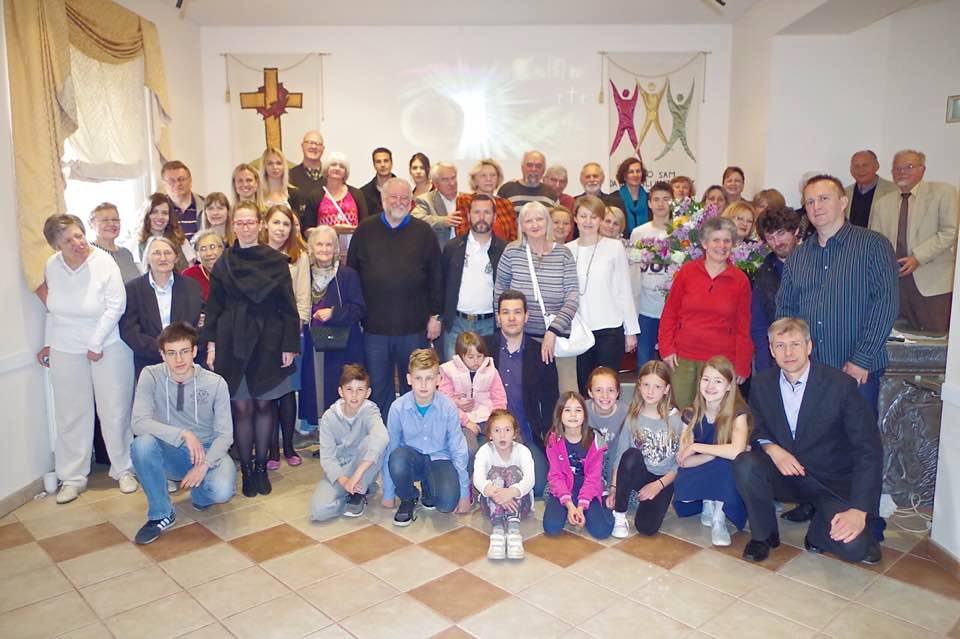 To accomplish our mission – CECEF does three things:
Partner.  Invest.  Invite.
Partnership is at the core of everything we do at CECEF. The initial partnership that got this whole thing rolling 17 years ago was when the Elders of the Kuslanova Church of Christ invited Dr. Tom Sibley and his wife Sandra to move to Zagreb to begin a school for Pastors and Church leaders. The picture above is that same congregation on Eastern Sunday, 2017. A beautiful partnership began.
Many years later, our foundation was created by men and women who saw the tremendous need for Gospel advancement in Central & Eastern Europe. Our dreams are BIG – we desire to revitalize Christianity in this region of the world by equipping leaders for lives of service. Rather than try to do everything ourselves, or reinvent the wheel, we have chosen to pursue a path of strategic partnership.
Our first and still primary partner is the Biblijski institut of Zagreb (The Biblical Institute of Zagreb), and the Kuslanova congreation. The Institute is a separate and independent organization from CECEF – though as a result of our successful partnership – we now have co-mingling of staff and leadership. Further partnerships have developed as a result of this one relationship – both in Croatia, other parts of Europe, and in the United States.
As the Biblical Institute grows in health and stability we desire to be open to other partnerships for the Gospel.
If you know of an organization in Central or Eastern Europe who is doing a great job of serving the Gospel and the local church, please let us know.  We'd love to become friends.